About Storykeeper® Dolls
The original Storykeeper Dolls were fabric dolls with hands and head made from polymer clays. They were called Storykeepers because they had many pockets in which to put the stories of your life experiences.... or any other story that you might choose to tell.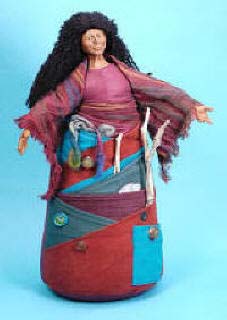 Maureen developed them during a difficult time in her own life in response to a need to ground herself with images and memories and keepsakes that reminded her of who she was and what was important to her. One of her first major magazine interviews, in Southwest Crafts in 1992 or 1993, featured a Storykeeper Doll as the accompanying project.
For awhile Wee Folk Creations sold a resin head and hand set to go with the pattern, but those are no longer being produced. We encourage you to sculpt your own head and hands for this pattern, using the directions in one of Maureen's books, such as Family and Friends in Polymer Clay.

Included with the doll pattern is the Storykeeper Doll poem.
This process can become very interesting as you tell your own story through each item that you put in her many, various sized pockets.We all have important and interesting stories to tell.....and this is one way to tell it.